Return order
Do you need to return something to us? No problem, we made sure to make it hassle-free. At SkatePro you can easily register your return online and order a label for the local parcel shop for only £3.95.
Alternatively, you can register online and either:
send it back to us with a self-organized delivery service
---
Frequently Asked Questions
How do i return my order with skatepros return service?
1) Place the returning product back into its original packaging and inside a shipping box/envelope.
2) Print out 3 copies of the sales invoice (these are needed for international transports), also print out the return label and the Customs Declaration.
3) Please fill out the Customs Declaration 23 form. You will need to put in the description of the returning product, its name, quantity, and its value in £ on both sheets and sign them (see the template below).
4) Bring the parcel with all the printed documents to the post office. The papers must not be placed inside the parcel but instead will need to be attached to the outside of the box, the post office employees knows what to do with them.

*Have in mind that the original packaging is considered as part of the product. Therefore original packaging must be secured in a shipping box/envelope and returned in the same state in which it was delivered to you.

If you have any other questions please don't hesitate to contact us. We will be more than happy to help.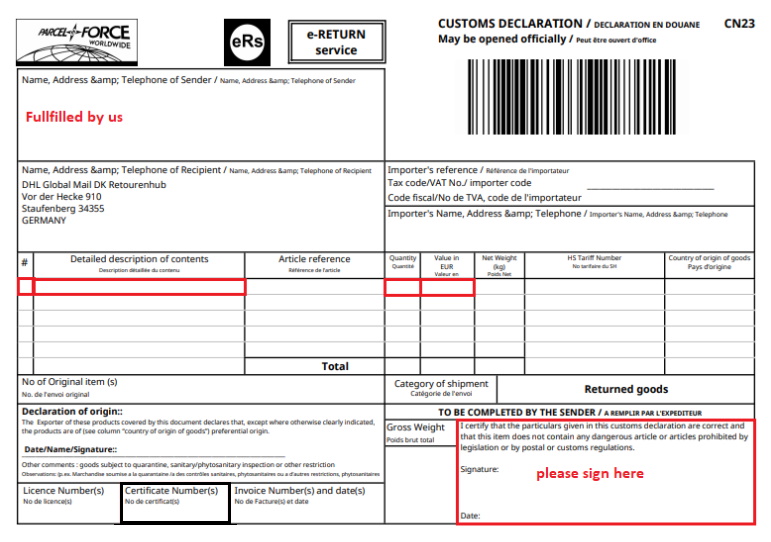 How much time do I have to return my order?
At SkatePro you can return your products within 365 days.
Where do I have to send the goods if I don't want to use SkatePro's Return Service?
SkatePro ApS
Omega 6
8382 Hinnerup
Denmark
Please be aware that the parcel must be delivered directly to this address and will not be picked up in a parcel shop.
How do I exchange a product?
You can easily return your products to us and place a new order for the desired exchange item. As soon as we receive your return parcel, we will process a refund back to your original payment method.
Can I return every item?
No, not everything ordered can be returned. You can't return services that you asked us to perform to modify products and products which were customized to your needs. More details: Right of Withdrawal exceptions
Will I get the shipping cost refunded?
You will be refunded the shipping costs, if you return your whole order. This does, however, not include the return shipping costs. (£3.95 if you use our return services). If you return part of your order, you will not be refunded the shipping costs. In this case, you will pay for both the shipping costs as well as the return shipping costs. Unfortunately, we do not do exchanges. If you wish to order a new product, you are always welcome to place a new order!